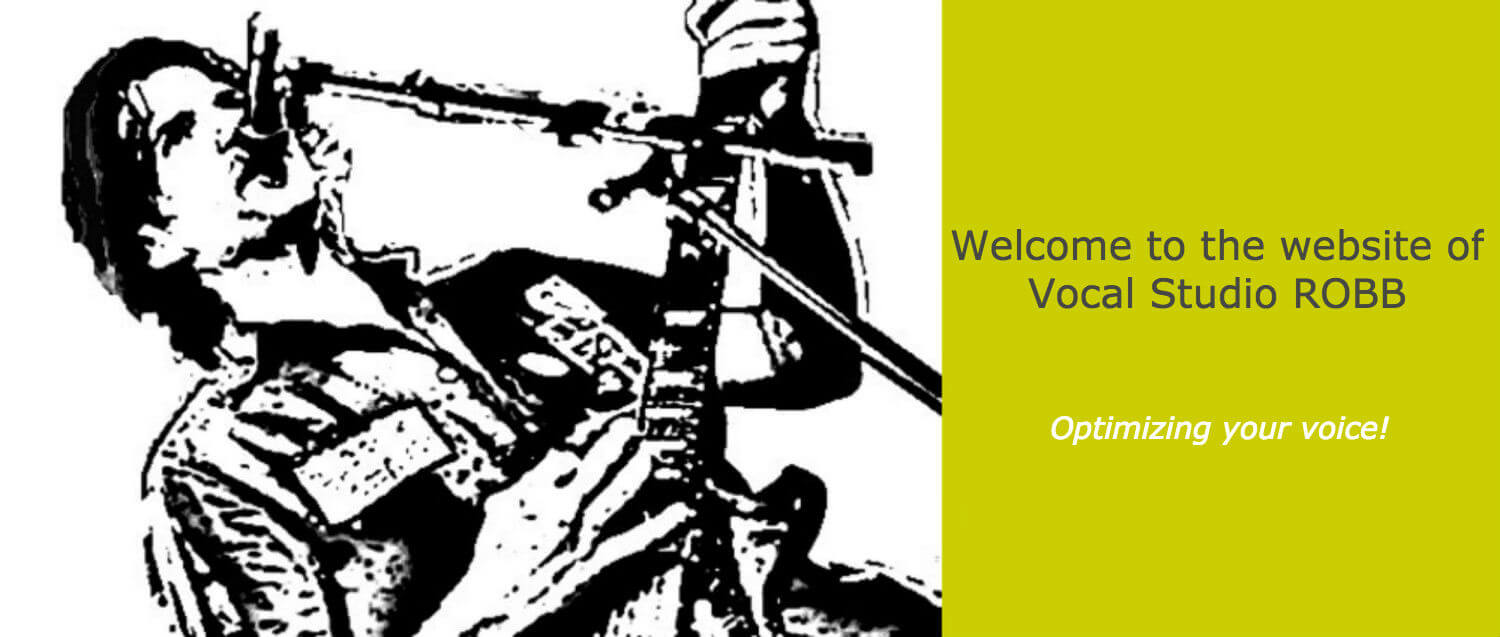 Welcome to the site of Vocalstudio ROBB
Vocal Studio ROBB is the vocal coaching practice of qualified vocal coach Rob van den Biggelaar. It offers singing lessons for beginners, advanced students and professionals young and old. Vocalists from all over the Netherlands (Utrecht, Breda, Den Bosch, Rotterdam, etc.) and Belgium (Antwerp, Leuven, Bruges, etc.) come to his practice in Strijbeek. And beyond through online voice lessons (Poland, USA, Germany, Switzerland, etc.).
Rob van den Biggelaar studied contemporary vocals at the conservatory (BaHons) and he also has a master degree as a music teacher. He studied on conservatories in the Netherlands and abroad. During the vocal lessons, Vocal Studio ROBB uses different vocal methods used within contemporary singing. On the base of his own knowledge and experience gained in studies, courses, training or masterclasses. This gives Vocal Studio ROBB multiple angles to work with, so that each student gets the most appropriate approach. Because not every method suits everyone! In addition, we do not want to pin down ourselves to one vocal method as a coach within Vocal Studio ROBB. In order to continue to develop ourselves as a coach we want to retain an open vision for all new developments within our field. We therefore apply the vocal method that matches the student's learning style.
Vocal Studio ROBB offers lessons and workshops for singing, singer/songwriter skills, music theory and solfege. On this site you can easily book lessons and find info about workshops. The main focus of the lessons are the goals and wishes of the student.
Vocal Studio ROBB is easily accessible from: Breda, Oosterhout, Tilburg, Hoogstraten, Minderhout, Antwerpen and just 5 minutes away from the A16 and A27.
Vocal Studio ROBB stands for:
Quality:
Lessons from a qualified singing teacher, which means he also has didactic, physiological and anatomical knowledge of the singing voice. Furthermore he has knowledge of many contemporary singing methods (TVS, EVTS, CVT, Pahn, Berkleemusic, etc.) who is continually aware of the latest developments of contemporary singing and works closely with (inter)national colleague singing teachers, speech therapists and scientists.
Personal attention:
The content of the lessons are on the basis of the wishes / goals of the student and what lies within his / her ability. All lessons are recorded and available within a 1 on 1 online network with the student.
Goal-oriented:
We wil work towards realistic and achievable goals thorough an incrementally.
Flexibility:
Lessons are easily planned by students on the basis of an online planning system.
Intensive:
The lessons have a duration of at least 60 minutes, so that we have sufficient time to learn voice exercises and to apply it directly into a song.
Developing your own voice:
Students, young or old, can discover their own voice and timbre, to develop and use it to increase capabilities. For every voice is unique!
More info? Please fill in the contact form below
This post is also available in Nederlands